T8 LED Louver Light Fixture Model: MDL-SF7
● More efficient: led grid troflfer is more effective than traditional bulb. A 1W LED Bulb is equals to a 10W traditional bulb, 90% of the electrical power can be saved.
● Much safer:led grid troffer generates little heat, apprightoximately 50 degree centigrade, much safer than traditional lamp which might generate heat up to 2000 degrees in its core.
Products Description
PERFORMANCE

● Tri-phosphor powder tube,high energy-saving,save 30% energy compared with traditional fluorescent tube.
● Bottom plate:New inclined plane design and super -thin design,apply to many kinds of ceiling grid.
● Body:06mm advanced high strength steel,will be stainless for more than 8 years with normal indoor use.
● Reflector:Imported anodizing aluminium(mirror /mist surface),no color change for more than 8 years with normal indoor use.
● Fittings:High quality electronic ballasts,high efficiency,energy-saving and long life span service.
● Easy Installation: Remove the quartz lamp cup, and reace the led grid troffer
● Application:Commercial lighting ,office block,library,etc.
ELECTRICAL
● Input Voltage: AC220-240V 50/60Hz
● Beam angle: 120degree
● Power Factor: >0.9
● THD<15%
CONSTRUCTION
● Lamp panel: using the high quality cold-rolled steel plate.
● Surface: anti-rust, anti- corrosion.
● Lamp holder: adopts rotary structure, flame retardant material.
● Wires: with high temperature resistant flame retardant materials.
● Ballast:high frequency electronic ballast. Energy saving, low temperature, long service life.
● Reflective material: matte or mirror reflective aluminum for option.
● Installation: ceiling mounted, wall mounted, suspended
● -20℃ ~ +50℃ operating temperature
● -20℃ ~ +50℃ storage temperature
PERFORMANCE SUMMARY

INSTALLATION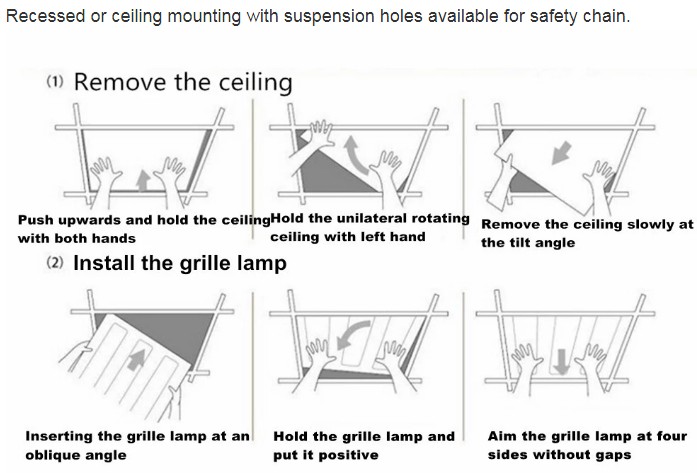 +86 755 2891 3225
+86 133 1298 8512