T8 LED Dustproof Fixture Bracket Model: MDL-SF11
● More efficient: led grid troflfer is more effective than traditional bulb. A 1W LED Bulb is equals to a 10W traditional bulb, 90% of the electrical power can be saved.
● Much safer:led grid troffer generates little heat, apprightoximately 50 degree centigrade, much safer than traditional lamp which might generate heat up to 2000 degrees in its core.
Products Description
PERFORMANCE

● beautiful and pragmatic , long service time
● three protect fixture reach the IP65 waterproof & dustproof standard.
● Suitable for factory , school , hotel , hospital ,family ,etc.
● customer can choose magnetic ballast or electronic ballast, or no ballast for LED tubes
ELECTRICAL
● Input Voltage: AC220-240V 50/60Hz
● Beam angle: 120degree
● Power Factor: >0.9
● THD<15%
CONSTRUCTION
● adopt top quality iron sheet , convenient to fix , easy to control
● adopt high quality fireproof material for lead and other fittings , surely safe
● Installation: ceiling mounted
● -20℃ ~ +50℃ operating temperature
● -20℃ ~ +50℃ storage temperature
PERFORMANCE SUMMARY

INSTALLATION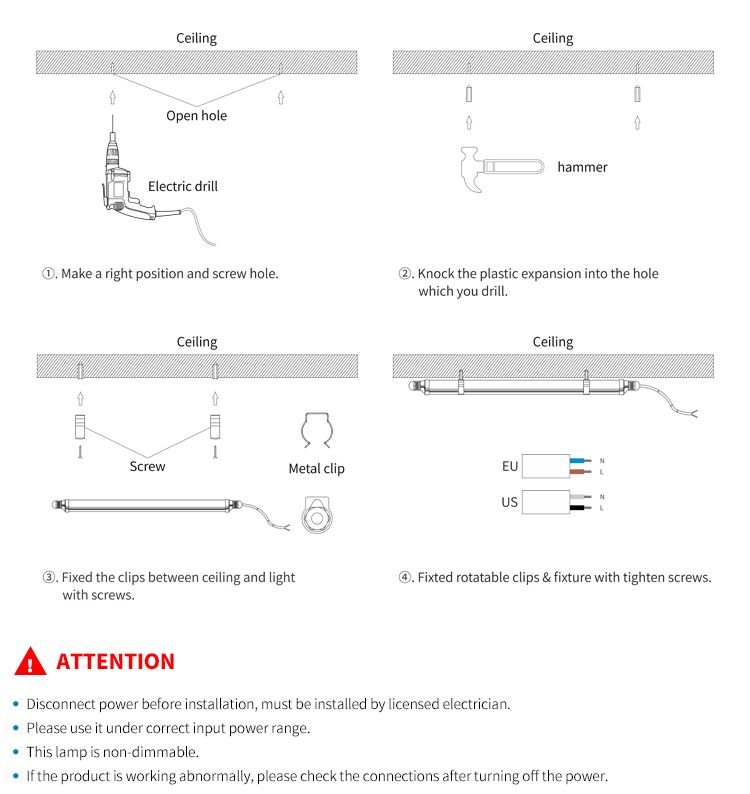 +86 755 2891 3225
+86 133 1298 8512