T8 LED Light Fixtures Model: MDL-SF5Z
● More efficient: led grid troflfer is more effective than traditional bulb. A 1W LED Bulb is equals to a 10W traditional bulb, 90% of the electrical power can be saved.
● Much safer:led grid troffer generates little heat, apprightoximately 50 degree centigrade, much safer than traditional lamp which might generate heat up to 2000 degrees in its core.
Products Description
What is the details of our LED T8 light holder?
● Material: high quality aluminum alloy material or iron, thickness is 0.2mm to 0.5mm, surface spray treatment, green energy, beautiful and practical;
● Suitable power source: T8LED fluorescent tube; available length are 0.6 m, 0.9 m,1.2 m and 1.5m, while according to customer requirements, customized non-standard length of the product;
● Accessories Material: wire and lamp holder madeof flame retardant materials, wiring neatly bracket feet radial advance rotary design to ensure that the lamp holder bracket feet and good contact, easy to install LED lamp;
● Cores using a standard dual-core 0.5 square copper wire, solder connection holder, to ensure long-term durability;
● Installation: Suction polynomial;
● Adaptation: offices, shopping malls, restaurants, factories, schools, etc.
What is the specification of LED T8 light holder?
● Housing and cover are made of advance material(strong steel)and thickness available
● The surface :the coating also protects against corrosion.
● New plastic snap-on end-cap using variety type of diffuser for good upward light distribution and aesthetic appeal.
● High-grade rendering and excellent color reproduction.
● The reflector can be anodized aluminum or coated aluminum.
PERFORMANCE SUMMARY

INSTALLATION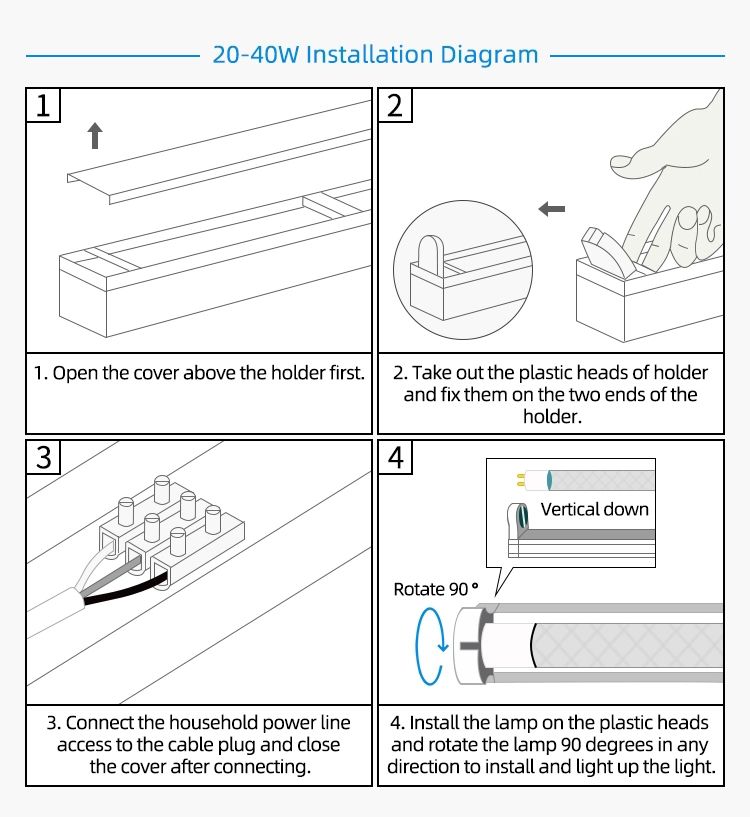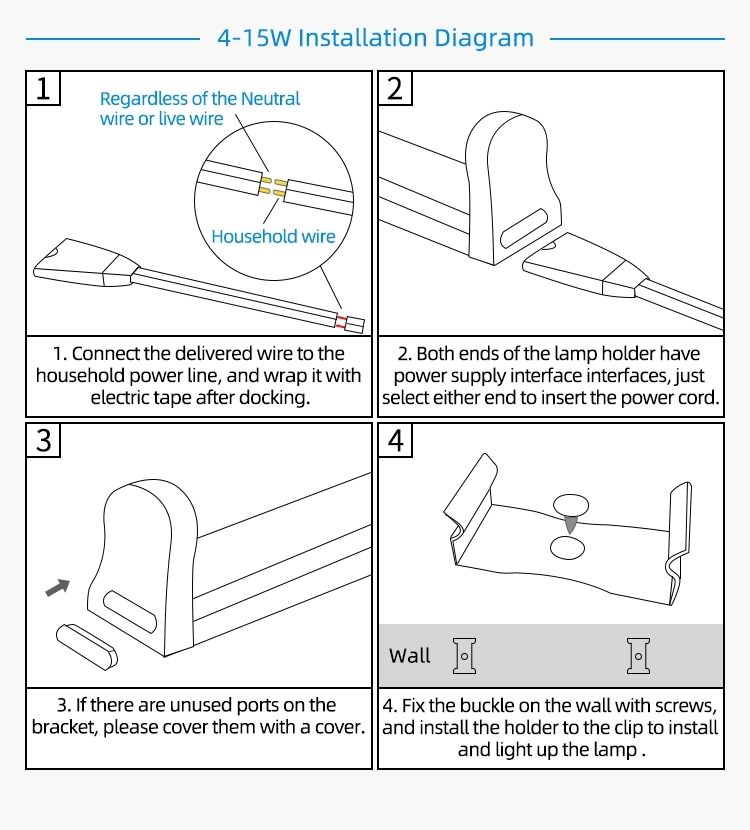 +86 755 2891 3225
+86 133 1298 8512