RGB LED Panel Light Model: MDL-PL-RGB
● Advanced super longlife and stable driver.
● No delay on start, no warm up time required, no noise, no flickering.
● No UV or IR radiation in the beam, mercury free, lead free.
Products Description
PERFORMANCE

● Rated lifetime L80: 50,000 hours
● CCT: RGB/RGBW/RGBWW
● Lume: 100LM/W;
● CRI: 80;
● UGR< 19/17 available;
● Dimmable Way: 2.4g PF Remote Control / Wifi
● Matrail: Aluminum+PMMA LGP
ELECTRICAL
● Input Voltage: AC220-240V 50/60Hz
● Beam angle: 120degree
● Driver Efficiency: >90%
● IP Range: IP44
● Power Factor: >0.9
● THD<15%
CONSTRUCTION
● Lightweight constuction allows for quick and easy installation
● Magnesium alloy heatsink for cooleroperating temperatures
● -20℃ ~ +50℃ operating temperature
● -20℃ ~ +50℃ storage temperature
What are the advantages of RGB LED Panel Light?
● Ceiling LED luminaires with frame in high value design
● Bright and colour, dimmable function,No IR/UV radiation
● CCT:2800-3200K 4000-4500K 6000-6500K are available
● Use 2.4G hz RGB control system,anti interference ability
● It can adjust the brightness and colours in the same time
● Ultra-thin panel thickness, thanks to side-lit LED lighting
● No visible diodes or glare, just a soft even field of light
● For recessed mounting, pendant mounting or ceiling mounting
● Be Compatible with IR, RF, DMX, DALI control system
● RGB dimmable led panel light is Red/Green/Blue three colors change.
● Lock cable DC plug for RGB led panel light.
PERFORMANCE SUMMARY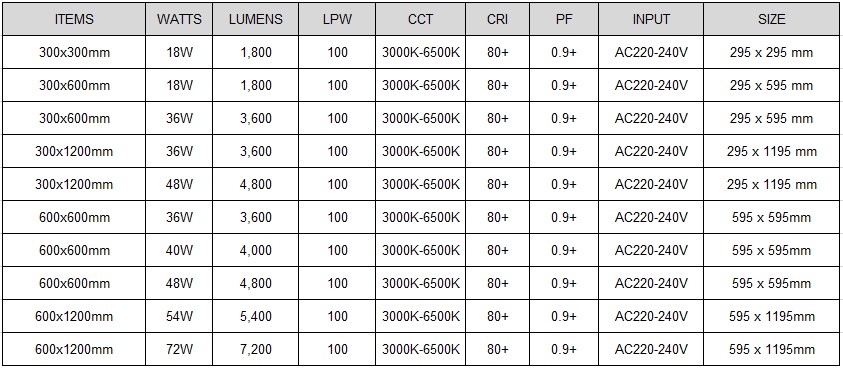 INSTALLATION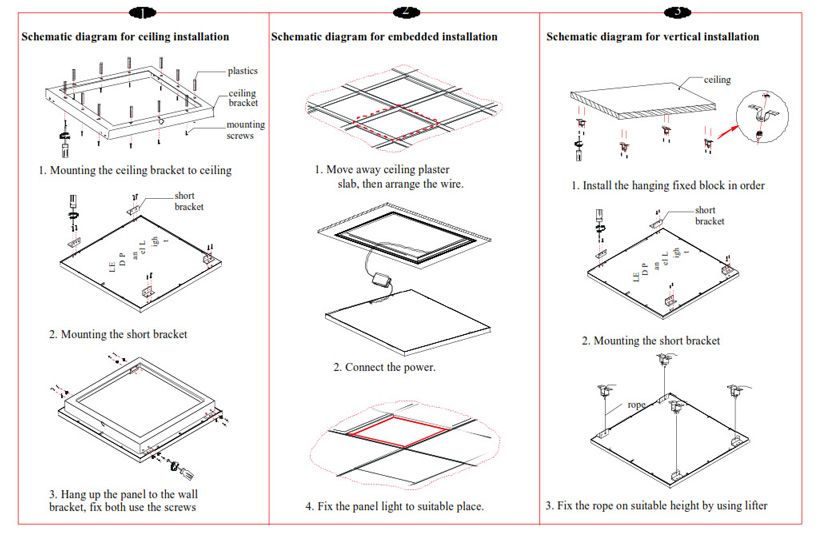 +86 755 2891 3225
+86 133 1298 8512